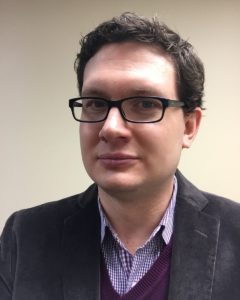 Christopher Uptain, LCSW was on the Board of Directors and served as Chair of Membership.  He sadly was killed in an auto accident on September 6, 2020.
GSCSW would like to honor Christopher by committing our energy and resources to something Christopher was very passionate about – Social Work students.
Christopher consistently named his hope for GSCSW to strengthen our outreach to students in MSW programs to offer them opportunities to network, gain clinical knowledge and skills, mentorship, and a professional place of belonging as they are in formation as Clinical Social Workers.
In order to honor Christopher and because GSCSW shares in Christopher's vision for connection with and support for students, we are in process of creating the "Christopher Uptain Student Engagement Initiative."  Details of what this will include are under development, but our hope is to build relationships with students at all of the Social Work schools, sponsor a GSCSW student representative at each of the schools, and hopefully offer an MSW student Scholarship.
As mentioned, details are not yet finalized, but as many of you have asked what you might do to help honor Christopher, we wanted to share our plans as they are under development.  If you would like to contribute a gift toward the Christopher Uptain Student Engagement Initiative Fund, please send a check with "Christopher" noted somewhere on the check.  Contributions can be sent via check sent to:  GSCSW, PO Box 33338, Decatur GA 30033-0388 or if you prefer you may use a credit card by filling out the information below and hitting submit.
Please note: this contribution is not tax deductible as GSCSW is not a 501(c)(3) organization.
Thank you.